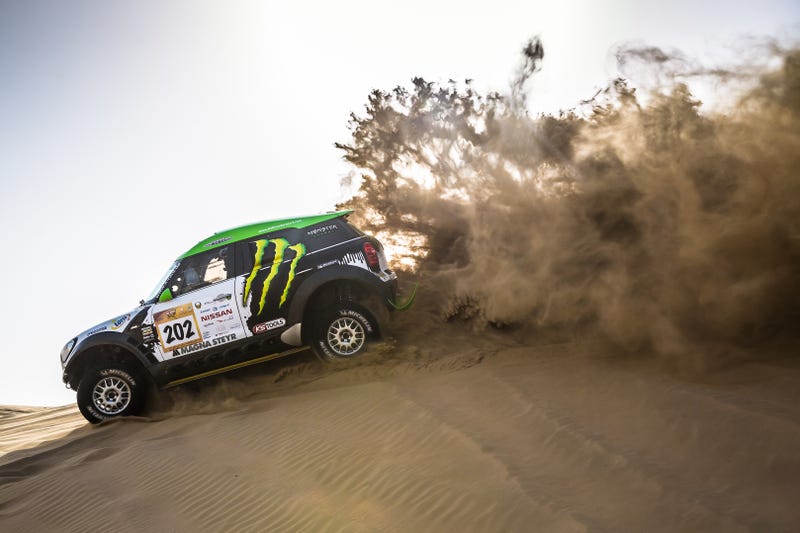 I've spent the past couple of days in the deserts of Abu Dhabi - not far from the border with the 'women drivers will eradicate virgins' kingdom of Saudi Arabia - checking out the X-raid MINI team whilst they test their 2014 Dakar contender.
The ADDC is a pretty awesome event with almost 100 car, truck, buggy and bike entries - with everything from Nissan Patrols, Toyota Hilux (Hiluxes? Hiluxi? Hiluxi.) to Honda CRFs and KTM 450s ripping across the dunes in the western part of the emirate.
Our MINI ALL4 Racing drivers Nani Roma and Krzysztof Hołowczyc tell me it's one of their favourite rallies - second only to the epic Dakar itself - and that driving on the silky soft sand in their diesel-engined, air-conditioned, four-wheel drive wagons is a fun way to pass a few days of testing.
I had the chance to be the co-pilot in Nani's Monster Energy MINI after yesterday's stages and I was blown away by the agility of the car and also the quietness in the cabin whilst at full throttle. Unlike my previous experiences of ripping through forests in the seat of a WRC car - which made your ears bleed without wearing defenders - we were able to chat freely without using radio comms, which is a far more civilised way of being a passenger in my humble opinion.
Up close with the MINI for the first time, another detail I noticed was the small but vital change to the driver's side A pillar - a slimmed-down version to give that vital extra couple of inches of visibility for when you're throwing yourself over a seemingly-endless sand crest as fast as you humanly can.
And no cross-country rally car would be complete without some essentials in the boot: a shovel, couple of spare shoes (which, by regulations, you must bring back the same number as you left with. Not like the old days of binning shredded rubber by the side of the road for the local camels to chew on. Gah.) and a set of grip boards to assist when you inevitably become buried up to your knackers in sand.
Having experienced dozens of rallies all over the globe, I have to say that I agree with Nani and Krzysztof - the ADDC has quickly become one of my favourite off-road events to date. Although I'm sure it will get bumped when I head out to South America next January to tick off another item on my bucket list: the supremely awesome Dakar rally.
If you want to see what happens in the final few days of the event, check out the real-time satellite tracker - where you can see how Nani, Krzysztof and the rest of the other lucky guys and girls get on.
Photo credit (top): Marian Chytka